Resolutions and Petitions in Support of the Iranian People

Iran's brave youth have been held captive for
We DEMAND that they are released NOW !!!




---
Mr. Pahlavi claims to be in favor of a popular referendum after the islamic regime is overthrown. He refuses to relinquish his claim on being the next King of Iran. But Iranians do not wish to choose between democracy, and monarchy/dictatorship. Iranians just want democracy. They rejected monarchy when they deposed Mr. Pahlavi's late Father. Mr. Pahlavi, along with his former courtiers, should get a grip on reality, and give up their dreams of gaining back their throne and lavish lifestyles. Iran is NOT Afghanistan !!! Iranians will NOT stand for a pupet king being imposed on them by anybody !!!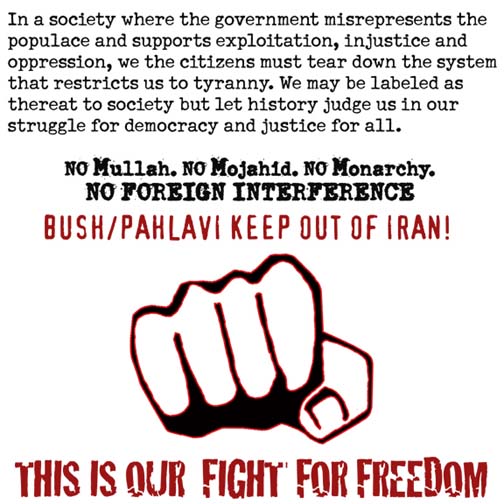 ---



This page was last revised on 8/14/2003

HamMihan