---
---

Click to join schs_njrotc


Website Maintained by: C/CAPT Nakamura, Jayme
jayme_nakamura@yahoo.com


Silver Creek NJROTC
Raider Company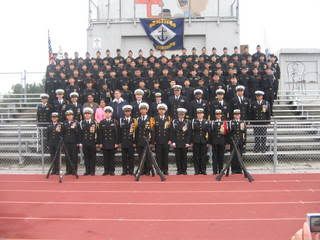 Silver Creek's NJROTC program was established in 1993 in San Jose, California. The program helps build leaders and good citizens for the future. The Senior Naval Science Instructor (SNSI) is LCDR Knight, and the Naval Science Instructor (NSI) is MCPO Willie Howell. For the 2006 - 2007 School year, the Cadet Commanding Officer is C/CDR Mangrobang, Timothy, and the Executive Officer is C/LCDR Teruel, Timothy.
---





San Diego trip was by far one of the best ever! Now that winter break is over all cadets need to start getting ready for the benefit concert and drill meet!

Benefit Concert: March 8th in the SC Theater. Performers will have a dress rehersal on March 7th in the theater, if you have questions please email C/CAPT Nakamura, Jayme or ask C/PO1 Bringas, or Novak.