Change

Colour



Main Street, Barrhead
East Renfrewshire


MacDonald Clan Crest
&
MacDonald Clan Motto

"By sea, by land"

Stornoway's Motto...
"God's Providence
is our inheritance"

"Se freasdal Dhe
ar dileab".

Western Isles Flag
Jimmy MacDonald




[click on the small grey rectangle] †
[to view thumbnail list of video in the playlist]
[Genres of my Video Playlists]
View thumnails playlists genres




"Let Scotland and the whole of the UK,
flourish by the preaching of His word,
and the praising of His name."
Pages on this website are best viewed on Google Chrome & Internet Explorer.
¶In 2000 I broke my foot in an accident at work, and for the next 28wks I was at home practically '24X7' with my foot in a plaster cast. So since I was whiling away the hours online I taught myself html and began to create my first webpage 'without' a computer. Just using a Settop Box, TV-Internet on NTL's Open Internet Access, [Now called Virgin Media]. In 2005 I got myself pc, added more pages making it a site.
Well now... that your here and I've got your undivided attention, and since you've obviously got nothing better to do with your time than to 'click' on my Website. ["A Hundred Thousands Welcomes To My Home Page."] ["Ceud Mile Fàilte Gu Mo Dhuilleag Dhachaidh."] Thanks!... It's so nice of you to drop by for a visit, I hope you stay for a while and enjoy your time here. I look forward to you dropping by again, sometime soon.
Just on the off-chance that you might be somewhat remotely interested. My name is James MacDonald [Seumas MacDhòmhnaill] aka Crìstean. I come from a background of generations of gaelic speaking... [Tha Gàidhlig gu leòr agam ach chan eil mi ro mhath air leughadh agus a sgrìobhadh ann's a Gàidhlig.] ...travelling people [Luchd-Siubhail.] 'cùm gàidhlig bèo' from the highlands & islands of Scotland, My grandparents and great-grandparents were Travellers, [Tinkers and Ceards] were used as derogotary terms to refer to us by the 'non travellers' so to speak.
Hawkers, Tinsmiths, Harris Tweed waste [fuigheags/fuigheagan] merchants, scrap dealers, yarn/bobbin venders are some of trades of the Highland Travellers that I remember my dad, Donald and uncles James and John MacDonald working at. Although the Travelling people worked at other various trades & professions, the above are just some of the trades I remember that was termed as 'travelling people's work'.
For more about the culture ie. history, songs, language etc. of the travellers. Check out the book by Timothy Neat on 'Travellers' entiltled... (The Summer Walkers) (About the Travelling People of the Scottish Highlands) Another web page that might be of interest to you on Highland Travellers is: Highland Travellers
I'm the oldest of eight of a family four boys (John, Alexander and George) and four girls (Grace, Mary, Jessie and Christina) born to Donald [aka. Dòlan] (who went to be with the Lord in Oct.2003) and Jemima [aka Simeag] MacDonald , We all lived (back then, the good old days!!!) at Tong Bridge [Gleann Dubh], a lot of my relatives and friends also lived in the Tong Bridge, Bridge Cottages, Marybank, Barvas and Parkend areas of Lewis. When I was about twelve years old my parents moved to (Tong, we lived at 26 Ford Terrace) that was our home until we flew the nest, but we still refer to 'Ford Terrace, Tong' as 'home, back home'. I've been living in Barrhead [Ceann a' Bhàirr] since 1983, it's about 7 miles from Glasgow (Glaschu) and about 4 miles Paisley [Pàislig.]
I'm ?? years young born 1956, I'm married to Elizabeth aka 'Bibith' who's three years my junior. Elizabeth is also the oldest in her family of six, two girls (Carol) and four boys (Thomas, James, Kevin and Malcolm). God has greatly blessed us with two wonderful, kind, loving, respectful and generous daughters, Laura born 1978 and Stacey aka 'The Stace' born 1985. God has also blessed us with four equally wonderful grandchildren. We are privileged to be their grandparents. (Laura is their mum) Steven George, born 1996, Erin born Dec. 2002, Lauren born Aug. 2005. & Cameron Alexander James born 2010. We couldn't have asked for a better family I guess we're just a little bit biased when it comes to our daughters and grandkids. I thank God for them.†
My wife 'Elizabeth' comes from Barrhead, (a Borrheid Lass)[My Mrs 'RIGHT' the one thing I didn't know about her, until, after we were married is... that her real first name is 'ALWAY'] We met each other on a 'blind date' and fell in love at 'first sight' (no pun intended). we got married in 1984 in the 'registry office' in Barrhead, and our wedding reception was held at her mum's (June (nee Carberry) McKenzie) home, then, 125 Carlibar Road. Where, we all (family and friends etc.) had a right good 'old knees up' We look forward to many more fun and happy years together with God's blessing.
Untill 2005 I was employed as a warehouse/forklift truck operative by Geologistics, [now '2012' named Agility] a freight forwarding company.(formally called LEP International) I've worked with the company in their warehouses at Black Byers Road Barrhead, Shelwelton Road Irvine, 'Module 5' IBM plant and latterly in 'Bay 12' at the IBM/Sanmina plant in Spango Valley Greenock, Scotland. I've been employed by LEP/Geologistics since (October 1996). For the last couple years now, the company had being doing a lot of 'cutbacks' ie. bonuses, over/time etc. So in April 2005 I took voluntary redundancy, the remainder of the Geologistics work force in IBM/Sanmina Plant in Greenock, were all made redundant in 2006. Then I worked for Tesco Stores Barrhead, I worked Night/Shift as a general assistant until I was laid of work in December 2006 due to long-term illness.
I hold on to God's word for my health and my family's health and salvation... Elizabeth works for the local council as a 'home support worker' Elizabeth is naturally a very caring person (even if I do say so myself) and is ideally suited for this type of job. Our daughter Stacey works as an administrator, also employed by the local council East Renfrewshire Council. Our eldest daughter Laura works hardest of us all, as a home maker bringing up four kids who all have health issues.
Tong [Tunga] Isle of Lewis Map is a small village on the Isle of Lewis Eilean Leòdhais. Tong is about 4 miles
North East of Stornoway, (Steòrnabhagh} the main town, capital of the western isles. Lewis is the largest of the 30+ Islands on the North West coast of Scotland ☓. know as The Outer Hebrides [Innse Gall] or The Western Isles [Na h-Eileanan Siar] (The General Register Office for Scotland (GROS) estimates that in June 2005, the population of the Western Isles was 26,370, and about 17,000 live on the Isle of Lewis)
Lewis is about 60 miles long by 25 miles wide. The Island has some of 'the' most beautiful white sandy beaches that you will see in the world. I've got family and friends who still live on the Island whom I visit quite regular. In Oct. 2005 Stornoway hosted the National Mod. An event which attracts many visitors and tourists to the Island. I'm proud to say that Lewis is a 'visitor friendly' Island, and we Lewisfolk [Leodhasaich] go out of our way to make our visitors feel Welcomed.
The Island is a ideal place for outdoor pursuits great for fishing 'a Fisherman's Paradise' camping, canoeing, hill walking, bird watching, quad biking etc. And across the border there's also the beautiful rocky Isle of Harris to discover.
My Interests
Reading, Fishing, Surfing the web, Digital Photography & Videography, 'trying' to learn Spanish. (¡Hola! y Bienvenidos a mi Sitio Web, amo la lengua española. yo trato de aprenderla. Feliz dia.) 'Beurla Reagaird' >Beurla-Reagaird Glossary< A 'secret language' of the Scottish travelling people, and to my knowledge is only spoken by the gaelic speaking Travellers especially Travellers from the Islands and Highlands of Scotland.Beurla Reagaird is said to be somewhat similar to the Irish travellers Cant: Shelta.
God is moving by His Spirit among all people drawing them to Himself in these last days,
and many travelling people from all nations are turning to God and especially in the UK. Could this be a 'revival' among the travellers? Please check out 'The Travellers' Prophecy.' regarding the travelling people of Scotland prophesied some years ago in the Elim Church in Aberdeen. I'm a Christian as are all my siblings 'born again' ie. 'Believing in and accepting Jesus Christ, as my Lord and Saviour.' [NO I'm not sinless, NO I'm not any better that you, just because you don't believe in Jesus. YES! all my sins have been forgiven, YES I will spend eternity with God. NO, I'm not being presumptuous. Find out for yourself [Here]
Our God is an awesome God! God is good!
It's good to worship God together with other followers of Christ Jesus, there's God's commanded blessings when we as believers dwell in unity. A quick pluk for my local place of worship it's... 'Elim Christian Fellowship, Paisley.' [NB. If you haven't yet heard about the move of God in the "Sunshine State"... what God's doing in Lakeland Florida] Check out here>>>Florida Outpouring.
| | |
| --- | --- |
| CONTACT | |

[Israel from 17/3/1954-present]
[America 9/11/2001]
[Britain 7/7/2005]
(Pray for the peace of Jerusalem)
(Jesus is the Prince of Peace)

Support our Armed Forces!
show your support for our...
Armed Forces Day.
Saturday 30th June 2012


✡ Numbers 15:38-39 (NIV)
Tassels on Garments


Speak to the Israelites and say to them:
'Throughout the generations to come you
are to make tassels on the corners of your
garments, with a blue cord on each tassel.
You will have these tassels to look at
and so you will remember all the
commands of the LORD, that you may
obey them and not prostitute
yourselves by going after the
lusts of your own hearts
and eyes.

Before you exit this webpage, Please...
✡ Pray for the peace of Jerusalem:
they shall prosper that love thee. Ps. 122:6
And I will bless them that bless thee,
and curse him that curseth thee:
and in thee shall all families of
the earth be blessed. Genesis 12:3 (KJV)
Please, Pray also for peace in the whole of
the'Middle East, between the cousins; 'The Jews & The Arabs'.
[№ of Countries that have visied this website *196* Click flag for more detail]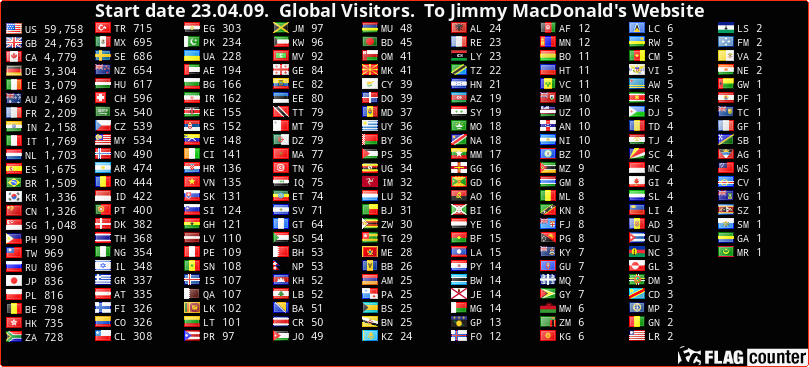 Jimmy MacDonald's Website ☓: Created Jan. 2001. copyright &copy & ™ Registered Trademark &reg
[Webpage updated on: Tuesday 11th Feb. 2014, BST: 18.17.59]
Free Directory Submit -
Submit your site for free in this search engine friendly web
directory to expose your quality website to the world.