What's New Archive
---
Update 05-10-16
That time of year again: summer wheels/tires come off, snow tires go on. This year also involved taking coilovers off and returning to stock suspension. The ride is nice and cushy, but boy does the stock suspension feel floaty!
---
Update 05-05-22

Fun in the sun...
Rack system: Yakima Q Towers, Q Stretch Kit, Cobra bike mounts, fairing, locks. More rack info here.
Bike info: Mountain Cycle Shockwave 9.5 with Marzocchi Super T, Kona Stinky with Marzocchi Super T. More bike info here.

---
Update 05-04-02
Picked up some more goodies from Kensai Racing. I really should stay away from that place... : )
---
Update 05-03-01
Picked up a new set of wheels and tires last week. Kosei K1 Racing 16"x7.5" in silver and a set of Dunlop SP Sport FM901 in 205/45R16. Just have to wait for the snow to melt...
Photo at right is from the Tirerack website. Mine are the four bolt versions pictured below. These are rated at 15lbs for this size, which is pretty good considering they are one pound less than my old 15"x6.5" Konig GT-Rs that I use as race wheels now. The stock 15"x6" SiR wheels are about 16lbs.
The GT Radial snow tires I got in the fall have worked great through the snowstorms we have had this winter. I would definitely recommend them as an inexpensive alternative to the name brand snow tires.
---
Update 05-02-11
Some blockhead sh!t-for-brains stole the front lip off the SiR. Honda wants $450 for a new one. As a consequence I have been driving around without a front lip for a few months now, but it was really bugging me not having it for some reason. I guess every time I saw the front of my car and noticed that the lip was gone, it reminded me of the brain-dead crack-addict who stole it.
So eventually I did a search and found Custom Auto in Calgary, Alberta, who sell a few different styles of front lips that will fit my Civic. I chose the one that looked as close to stock as possible and ordered it.

I ordered it three days ago and it arrived today. I am impressed at how quick it was. The $139.99 Canadian price includes shipping, so the price is right. The lip is ABS, so it should be reasonably strong, although it is a bit thin. We'll see how it stands up to abuse. But first, I need the hardware to mount it, which did not come in the box with the lip. I have emailed Custom Auto and hopefully they can send the hardware soon. In the meantime, I have to find a place to paint it Flamenco Black Pearl.

Update 05-02-17
I got an email back from Custom Auto. Apparently, even though they told me in an earlier email that the lip comes with mounting hardware, now they are saying "it was only a couple of wood screws and now they don't come with hardware". Well, thank you very much. I guess basically the plan was to tell a potential customer that the product does this or comes with that in order to make the sale, and then stiff them. Thanks Custom Auto, I appreciate it.

I really hope this thing fits properly and is reasonably durable, because I would hate to have to find out what the rest of Custom Auto's after sales service is like. Updates soon...
---
Update 04-10-31
Picked up a set of GT Radial 195/55R15 Champiro WT-55 snow tires from Steelecase Tires 'N Mags, mounted to the stock SiR 15x6" alloy rims. These are to replace my worn out Nokian Hakkapeliitta NRWs.
The word from Steelecase is that these tires were designed by a former Nokain engineer, produced in Indonesia on the same machines as some other high-end name brand tires, and work just as well as the Nokians for less money.
Because it has not snowed yet, I cannot judge their winter performance, but I will say that their dry pavement grip is very good, better than the NRWs. Wet pavement grip is also very good, they are quiet, and only a little bit more squirmy than the NRWs, which I felt were very squirm-free for a snow tire. A full report after the first few snowfalls.
I've never heard of GT Radial, Champiro, or their WT line of snow tires, but a little web research revealed the following profile from one of GT's European distributors:
GT-RADIAL is the premium line of the largest tire manufacturer in south-east Asia, Gajah Tunggal, situated in Indonesia. This large selection encompasses all standard sizes in the passenger car sector as well as the new Ultra High Performance tire CHAMPIRO HPZ (up to 18 inch). The palette of products covers also winter treads and additional small truck and off-road tires. Reifen Gundlach is the sole distributor of all makes of GT-RADIAL for Germany, Denmark and Switzerland. GT-RADIAL tires give new meaning to the phrase: GOOD BUY. Their certification by the ISO 9001 reflects their dedication to meet our high European standards. The components necessary for the production of the most modern rubber compounding technology are supplied primarily by such German companies as BASF, etc.
Looks like GT Radials are well received in Austrailia as well: link. The Austrailian distributor's description of the GT Radial line is as follows:
GT Radial is one of the world's most modern tyre manufacturing plants in the world, and is fourteenth largest producer of tyres worldwide.GT Radial produces approximately 30 million tyres every year, about four times the total number of tyres sold in Australia. Its tyres are available in more than 80 countries worldwide.
Four-time Bathurst winner Allan Moffat OBE has spearheaded a national GT Radial awareness campaign. "They perform better than all brands in that same price category and GT Radial is also the only tyre in Australia with a free replacement guarantee" according to Allan.
In a recent edition, MOTOR magazine published the results of its "Giant Tyre Test". GT Radial was voted "No.1 Value for Money".
GT Radial's Tyre dealers are spread over the whole of Australia.
So it looks like GT Radial is the biggest tire company I've never heard of. Maybe we'll be hearing more about them soon, assuming their product is as good as their distributors say it is...
---
Update 04-10-03
I replaced the crazy-loud MBRP muffler with a much quieter generic stainless steel unit. The folks at RT Motorsport did a great job making it look stealth, too, which was exactly what I was looking for. (I now have an MBRP stainless steel muffler for sale, cheap!) Here is a pic of the new one:
It is reasonably quiet, painted black with a small-ish tip, but it still flows reasonably well. I did a couple of "dyno-runs" using the G-Tech with the MBRP installed and got an average of 153hp. I did another run this evening with the new quieter stealth muffler and got 151hp. The new one should be a bit "torquier", but it does not seem to be giving up too much in the way of peak hp, which is perfect.

So the car has gone from 137hp stock, to 140hp in less-than-favourable conditions with just an AEM V2, to 153hp with the ITR enlarged collector, Carsound cat and MBRP cat-back exhaust system, to 151hp with a quieter stainless muffler on the MBRP piping. Not too shabby...
---
Update 04-07-14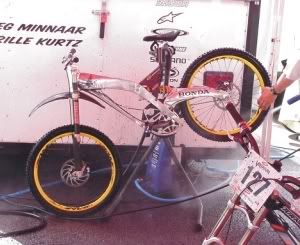 Sighted at the Mount Saint Anne World Cup mountain bike races a few weekends ago, Honda's $70,000 downhill bicycle. Patent pending internal gearbox system, Showa suspension, and World Champ Greg Minaar aboard.
---
Back to Main Page