G'Day,

My name is Jo-Anne and I am originally from Australia. I had been operating my business and selling Avon in Australia for 6 years before moving to Canada with my children. I have now been selling in Canada since 2004.

As one of the largest manufacturers of beauty products in the world, with 120 years of history, AVON has a wide selection of gifts for family holidays, birthdays, anniversaries, graduations and other special occasions.

All you have to do is open an AVON Brochure. Every one is packed with incredible offers on beautiful makeup, leading skin care technology, bath & body, fragrance, stunning fashions, books and DVDs, home decor, vitamins, sports & exercise items, kid's stuff and so much more.
As a Unit Leader, I am looking for people across Canada to join my team.

If you would like to:
- earn a little extra income,
- be your own boss,
- hold a fundraiser,
Then AVON has an opportunity for YOU.
Join My Avon Team!

Earn 10-50% off
Avon products simply by becoming an Avon Representative.

To join Avon today
call Jo-Anne Logan
(604) 820-0815
or Click Here


Whether you want an Avon Brochure or would like to become an Avon Representative feel free to browse this site and see what we are all about. Watch our video to see if saying ......

"Hello Tomorrow" is you.
R

egards,



Jo-Anne Logan


Unit Leader /
Sales Representative
Avon Canada Inc.

.....the company for YOU

Brochure Expiry Dates
Campaign 07 & 08: Monday 2nd April 2012 Delivery after: Monday 9th April 2012
****
Campaign 09 & 10: Monday 30th April 2012 Delivery after: Monday 7th May 2012
****
Campaign 11 & 12: Monday 28th May 2012 Delivery after: Monday 4th June 2012
****
Campaign 13 & 14: Monday 25th June 2012 Delivery after: Monday 2nd July 2012
****
Campaign 15 & 16: Monday 23rd July 2012 Delivery after: Monday 1st August 2012

Our Avon Brochures are now online so just Click on a picture to browse.
You can also email me directly from the brochure with your order.
Thank you.
SNEAK PEEK has been updated with new information
Scroll down to check it out.


Check out how Avon's products compare with other well known brands. New link under the Avon Cafe Section.

Expressions

Our Spring Expressions catalogue is here!

I also have a sampler of all the fabrics that are in the brochure.

Just ask to see!

The latest in Home Decor Ideas

Mark

Campaign 8 & 9

For those that like to keep up with the latest trends.

C9 Sneak Peek...

is April 8th 2012

so relax and enjoy the day!
| | |
| --- | --- |
| | |
| C6 | C6 Outlet |

You can still Back Order from C6 if there was anything you missed


HAVE YOU MET MARK?


Mark is energetic.
Mark is playful.
Mark is Avon's line of beauty products for the Young at Heart.

- View Mark Product Guide
- View Mark Color Chart


Sneak Peek

- Avon Beauty News CLICK HERE * updated 22/5/09*

- Other uses for Avon Products CLICK HERE

- What's new for Mark C16 - 17 CLICK HERE

- What's coming in C15 2009. CLICK HERE

Scroll down further to see What's New. *updated 22/5/09*
Avon Wins Four Beauty Awards



Avon has just been honored with four awards at the prestigious Cosmetic Executive Women's (CEW) Beauty Insider's Choice Awards. The awards recognized the most innovative products from the past year and are considered the highest honor in the beauty industry. Professionals from across the cosmetics industry attended the event held at the Waldorf Astoria hotel in New York City on May 1, 2009.

Avon winners:
• ANEW Clinical Professional Stretch Mark Smoother won the Body Treatment Mass award
• Pro-To-Go Lipstick won the Lip Product Mass award
• Bond Girl 007 won the Women's Scent Mass award
• Advance Techniques Grey Root Touch-Up won the Hair Care, Style & Coloring Mass award

For more information about CEW and other winning products, visit www.cew.org
The Avon Crusade for Change Coin Purse
Metallic Silver Coin Purse keeps small treasures, makeup or coins close
at hand. 100% polyester satin interior. Breast Cancer Crusade Charm with
clear pink Czech stones on a link chain. 14cmW x 7cmD x 10.2cmH All net
proceeds go directly to the Avon Breast Cancer Crusade
Product # 032-564 $5.00
(taxes included)
Crusade Pink Pashmina Style Scarf.
Embroidered Pink
Ribbon on one end. 100%viscose rayon.170cmL x 60cmW including fringes.
All net proceeds go directly to the Avon Breast Cancer Crusade .
Product # 140-403 $5.00
(taxes included)
NEW for 2009
Avon Crusade Journal & Pen Set.
A Journal that says a lot about you....
Elegant faux - leather journal with double loop pen holder and satin bookmark.
80 lined sheets with metallic silver lined edging. Sleek brass pen comes with one refill.
Product # 060-949 $6.00
(taxes included)
When you buy a crusade item, Avon will donate all net proceeds from each crusade item purchased to the Avon Breast Cancer Crusade to fund breast cancer research. To date with your help Avon has raised $15 million for the fund.
Empowerment Pendant Necklace.
308-322 $5.00 (taxes incl)
Wear the necklace that could change women's lives.
" I am proud to introduce the New Avon Empowerment Pendant Necklace to support the very important global mission to end violence against women. Purchase the necklace for yourself , your family and friends as a symbol of a future without limits for all women. Empower women worldwide.
Thanks to your support, Avon Empowerment Bracelet sales in 2008 raised over $1 million for the UNIFEM - managed UN trust fund to end violence against women, as well as generating additional funds for local programs nationwide and in more than 40 countries to reduce violence and help victims and their families.
We can all make a difference. Show off your new necklace and let's help stop the violence together."
Reese Witherspoon
Avon's Global Ambassador.
100% of the profits will be donated to the Avon Empowerment Fund
Anew Clinical Contouring Treatment

Anew Clinical Contouring Treatment works to create a smoothing and toning effect, resulting in skin that appears tighter and more lifted.

After just one use skin instantly feels firmer and more toned. Over time, it works to reduce the look of excess skin on abs, hips, thighs and buttocks.

# 014-081

Special Try It Price of

$25.00

a saving of $10.00

Similar brand name body contouring products such as Clarins Super Restorative Redefining Body Care 200ml retail for the regular price of $87.00, that's 44cents per ml.

While Avon's Anew Clinical Contouring Treatment 150ml retails for the regular price of just $35.00,that's just 23cents per ml.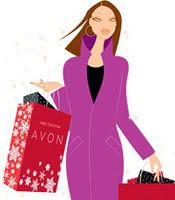 Joanne Logan ~ Ph: 604-820-0815 ~ Email: joanne.logan@interavon.ca
Click on the picture above if you wish to go back to my Interavon site to
Join my Team or Shop with me or Shop Online
Last updated 24th March 2012
Click here to Bookmark this site!