Movie Info
ANIMATED FILM #17

LENGTH:  79 minutes

ORIGINAL FILM RELEASE DATE:  January 25, 1961

VIDEO RELEASE DATE:  April 1992

DIRECTED BY:  Wolfang Reitherman, Hamilton Luske and Clyde Geronimi

PRODUCED BY:  Walt Disney

WRITING CREDITS:  Bill Peet (story), Dodie Smith (novel)

MUSIC BY:  Mel Leven, George Bruns

SONGS BY:  Mel Leven

NOTES:  6,469,952 animated Dalmatian spots appear in the movie, each one drawn by hand. (Pongo has 72 spots, Perdita 68, and each of the 99 puppies 32)

Several of the characters from Lady and the Tramp (1955) can be seen in a pet shop window during the twilight bark sequence.

At one point Jasper and Horace's TV set features Disney's award-winning cartoon short Flowers and Trees (1932).

When the Baduns are talking on the phone to Cruella, they are holding a newspaper. The only headline on the front page (apart from the dognapping) is CARLSEN SPEAKS, and a picture of a capsized ship. This helps us to date the story, since the Carlsen in question is Kurt Carlsen, captain of the freighter Flying Enterprise, which sank after a prolonged struggle in the Atlantic. This was the media event of the year in 1952.

First film to use "Xerography," a method of reproducing the animators drawings directly to cells, instead of having human artisans trace them with fine brushes.

First animated feature to gross over $10 million on initial release. (The film has since grossed well over $200 million worldwide.  Its 1985 release alone earned $32.1 million)

GOOFS:  Continuity Error:  In the park, Roger is dragged away from the park bench where his hat is sitting, but is shown wearing it seconds later.

Continuity Error:  In the park, Anita's hat switches between black and beige.

Continuity Error:  When Anita is pulled from the pond, the book she was carrying  has become a handbag.

Continuity Error:  During final car chase, Jasper and Horace see the moving truck approaching the intersection from their right, but when the vehicles collide, the moving truck has come from their left.
 
Multimedia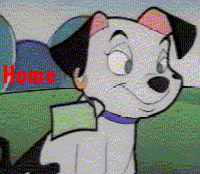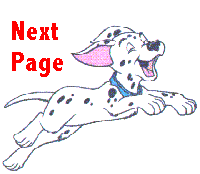 This 101 Dalmatians site is owned by Disneynutt.
Click for the [ Next Site | Skip a Page | Random Page | List ring pages ]
Want to join the ring? go to the 101 Dalmatians Webring Home Page!